10th Gen vs 11th Gen Laptops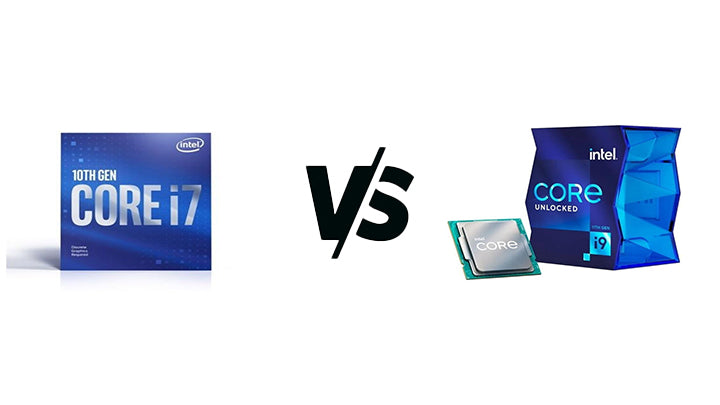 Laptops are highly beneficial since they are accurate, speedy, and can easily carry out several tasks. It can execute vast calculations in a microsecond and store massive amounts of data in conveniently accessible locations. We're all aware that processors, also known as the Central Processing Unit, are in charge of all task processing and administration on your laptop.
Nehalem, Intel's first-generation CPU, was introduced in 2008. Many generations of CPUs have been released since then. The 11th generation Intel CPU is now available in 2022. When comparing Intel 10th Gen versus 11th Gen CPUs, it is evident that the 11th Gen processors will outperform the 10th Gen processors. This article will compare the 11th generation to the 10th Generation CPUs to see how they vary.
What is a Processor?
We give instructions to the laptop to execute any process. Our instructions are in a dialect that we comprehend. The laptops recognize the binary language, and the information we provide must be transformed into binary language. Applications must be run and handled correctly for the computer to work effectively. The laptop's processor converts our instructions into binary code and manages and organizes task execution.
Following task completion, the processor converts the output from a binary language to a language we comprehend. Most of today's processors, even some of the finest budget CPUs, feature multiple cores, which implies the integrated circuit contains two or more processors to boost efficiency, minimize energy consumption, and do many tasks simultaneously. Your computer will function more smoothly if your CPU is powerful.
Intel 10th Generation Processors:
The Intel 10th Generation comet lake series is built on a 14nm redesigned architecture. Intel has classified this CPU into six categories: 
i9 for enthusiasts

i7 for outstanding performance

i5 for efficiency

i3 for moderate performance 

Pentium and Celeron for low workloads
| | | | | |
| --- | --- | --- | --- | --- |
| | i9 | i7 | i5 | i3 |
| Maximum Base Frequency (GHz) | | | | |
| Intel Thermal Velocity Boost Technology Single / All Core Turbo Frequency (GHz) | | | | |
| Intel Turbo Boost Technology 3.0 | | | | |
| Intel Single Core Turbo Frequency | | | | |
| Max Number of Cores/Threads | | | | |
| Intel Smart Cache Size (MB) | | | | |
| Memory Type Support  | | | | |
Characteristics of Intel 10th Gen Processors:
Because they can readily calculate large operations or applications, the 10th Generation Intel Core processors are strong processors that can be utilized for any purpose. This CPU has several extra features, including:
Efficiency: 
Because it features an intelligent performance function that learns and adapts to what you do, this processor can help you increase your efficiency.
Connectivity:
With integrated Intel Wi-Fi 6 (Gig+), Intel Ethernet Connection I225, and Thunderbolt 3 technology, the 10th Generation Intel Core CPUs enable rapid, safe, and versatile wireless and wired networking.
Quality Entertainment:
A new graphics architecture supports ultra-vivid visual experiences like 4K HDR and 1080p gaming. The Intel Core Intel graphics processors of the 10th generation enable you to experience content like never before.
Gaming: 
Play high-fps games at up to 5.3GHz while streaming and recording. Overclockable 10th Generation Intel Core Processors favor low-cost gaming laptops and desktop computers that are likely to use outdated processors and graphics cards.
Intel 11th Gen Processor:
The 11th Generation CPU, codenamed Rocket Lake, is 10nm in size and is built around a revolutionary new core and graphics design. Intel Core CPUs are designed to make any work quicker and easier to complete. Acceleration with AI-assisted technologies, Intel X graphics, and best-in-class networking all work together to increase the efficiency you feel. The 11th generation is broken into five parts.
They are the X series for high-end gaming and enthusiast performance, the i9 for entertainment and gaming with ultra 4K video and 360 videos, the i7 for entertainment and gaming with built-in AI acceleration and Wi-Fi 6, and the i5 for an immersive experience and content making, and the i3 for next-generation graphics.
| | | | | |
| --- | --- | --- | --- | --- |
| | i9 | i7 | i5 | i3 |
| Number of cores | | | | |
| Number of Threads | | | | |
| Processor Base Frequency | | | | |
| Max turbo frequency | | | | |
| Intel Thermal Velocity Boost Frequency | | | | |
| Cache | | | | |
| Bus Speed | | | | |
| Intel Turbo Boost Max Technology 3.0 Frequency | | | | |
| TDP | | | | |
Characteristics of Intel 11th Generation Processor:
The Intel 11th Generation core CPU is intended for high-end gaming and entertainment performance. As a result, this processor will be found in premium laptops running Windows 11 or Linux. Here are some qualities that attract Pakistan's finest laptop makers to adopt Intel 11th Generation Processors.
Innovative design:
The new graphics core and architecture, AI-based intelligent performance, and 11th-generation Intel Core wireless and cable networking take laptop and desktop achievement to new heights in eternal harmony.
Intel X graphics:
Intel X graphics architecture enables rich and enjoyable experiences, such as 4K HDR and 1080p gaming on laptops and desktops. Up to 20 PCIe, 4.0 lanes support the newest discrete GPUs.
Artificial intelligence (AI):
Advanced, integrated AI (AI) adds new features and works alongside applications to improve operational flow and speed, making things easier.
Enhanced Connectivity:
Intel Wi-Fi6/6E (Gig+) provides nearly 3X faster speeds for excellent wireless activities. Wi-Fi technology has been the most significant development in the last 20 years. Thunderbolt 4 provides a dedicated, universal connector for charging and accessory connectivity.
Difference Between 10th and 11th Gen:
10th  generation

11th generation 

14nm

10nm

Architecture:

Based on revised architecture

Based on new core architecture

Performance:

Great performance but lower than the 11th Gen

High performance in entertainment, gaming and for professional or personal use

AI Support:

Good AI support

Advanced AI support which is better than 10th Gen

Wi-Fi:

Includes Wi-Fi 6

Includes Wi-Fi 6E

Thunderbolt:

Includes Thunderbolt 3

Includes Thunderbolt 4, which guarantees amazing connectivity and is faster and more reliable

Memory Speed:

It supports up to DDR4-2933MHz memory speed

It supports up to DDR4-3200MHz memory speed
Reasons for choosing 10th Gen Processor:
If you want a CPU that can finish all operations, 10th Gen processors are the finest choice. It has a turbo speed of up to 5.3 GHz, 08 cores, a 16 MB Intel SmartCache, and overclocking capabilities, as well as Intel Wi-Fi 6 (Gig+), Intel Thermal Velocity Boost (Intel TVB), and Intel Dynamic Tuning Technology (Intel DTT). The 10th generation core i9 processor has 20 threads and ten cores, whereas the 11th generation processor has 16 Threads and 08 Cores. Because the 10th generation is older, it is less expensive than the 11th generation, with particular variants of the 10th Generation CPUs costing less than 10,000 Rupees.
Reasons for choosing 11th Gen Processor:
The Intel Core Processors 11th Generation redefines Intel CPU performance in laptop and desktop PCs. The updated core architecture and graphics, improved AI performance, high-end wireless and wired connectivity, and enhanced tuning options deliver more power and flow rates to meet your needs. It is the current version. Thus, it performs better than the 10th generation in Entertainment, Gaming, and other duties, which is why engineering students choose this CPU when purchasing new laptops. As opposed to the 10th Gen, the 11th Gen has higher single-core performance and supports the PCIe 4 interface.