Best Laptop for a Computer Science Student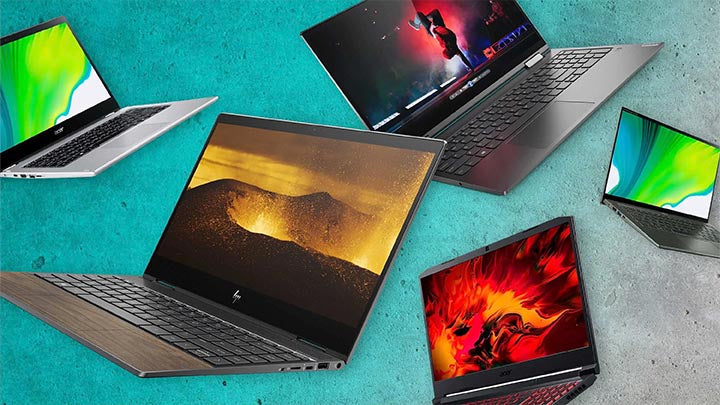 Choosing the best priced laptops for a computer science student is necessary as it can affect their ability to complete coursework and work on programming projects efficiently.
So here are some of the best choice for Computer Science Students when it comes to Laptops in Pakistan.
Best Laptops for Computer Science Students in Pakistan:
The HP Spectre X360 16f1013dx is a high-performance laptop. It is designed for individuals who need a powerful device for demanding tasks. This laptop has a 12th-generation Intel Core i7 12700H processor, which delivers exceptional speed and efficiency. The 16GB RAM ensures smooth multitasking, while the 512GB SSD provides ample storage space for your files and applications.
The 16-inch IPS display offers a resolution of 1920 x 1080, delivering crystal-clear visuals and vibrant colors. The touchscreen display can be rotated 360 degrees, allowing you to use the laptop in various modes such as tablet, tent, or stand mode. The screen has an anti-glare coating, which reduces reflections and eye strain, making it perfect for extended use.
The laptop comes with Windows 11 pre-installed, providing a modern and intuitive interface optimized for touch screens. The operating system offers improved security features, faster boot times, and better overall performance.
The HP Spectre X360 16f1013dx has a backlit keyboard that is comfortable to type on, even in low-light conditions. The keyboard is also spill-resistant, protecting the internal components in case of accidental spills.
It features Wi-Fi 6, Bluetooth 5.2, and two Thunderbolt 4 ports, providing fast data transfer speeds and support for multiple external displays. It also has a USB 3.2 Gen 2 Type-A port, a headphone/microphone combo jack, and a microSD card reader.
The Asus VivoBook K513E is a mid-range laptop designed for everyday use, which offers a range of features that make it an attractive option for those who need a reliable device for work or entertainment. 
The 8GB DDR4 RAM provides enough memory to run multiple applications smoothly, while the 512GB SSD allows fast storage access and quick boot times. Additionally, the laptop comes equipped with an MX 330 2GB graphics card, making it suitable for light gaming and video editing.
The Asus VivoBook K513E also boasts a 15.6-inch Full HD display, which offers excellent clarity and sharpness for watching videos, browsing the web, or working on documents. The laptop's thin bezels and compact form make it easy to carry around, while its backlit keyboard allows for comfortable typing in dimly lit environments.
Other notable features include a USB Type-C port, a USB 3.2 port, an HDMI port, and a headphone jack, allowing easy connectivity with external devices. The laptop also has Wi-Fi 6 and Bluetooth 5.0 support, providing high-speed wireless connectivity for streaming, browsing, and downloading.
The Lenovo V15 G2 Core I5 11th Gen 1135G7 is a powerful laptop have impressive features. It is equipped with an 11th-generation Intel Core i5 processor, a quad-core CPU with a base clock speed of 2.4 GHz, and can reach up to 4.2 GHz with Turbo Boost technology. 
In terms of memory, the Lenovo V15 G2 comes with 4GB DDR4 RAM, which is expandable up to 12GB. It provides enough memory to run multiple applications and ensures smooth performance. It also has a large 1TB hard drive, which offers ample storage space for documents, files, and media.
The 15.6" FHD display on the Lenovo V15 G2 is a highlight, providing a crisp and clear viewing experience. It has 1920 x 1080 pixels and an anti-glare coating that reduces eye strain. The laptop also has connectivity options, including USB 3.2 and HDMI ports and Wi-Fi and Bluetooth connectivity.
Factors for Best Laptops for CS Students:
Processor:
The processor is the computer's brain and is responsible for executing instructions. A computer science student will need a powerful processor to run coding software and perform other computing tasks. The Intel Core i5 or i7 processors are good choices as they balance power and affordability.
RAM:
Random Access Memory (RAM) is the memory to store data temporarily. A computer science student will need a laptop with at least 8GB of RAM to run programming software smoothly. However, if the student plans with large datasets or runs multiple applications, 16GB or more of RAM may be necessary.
Storage:
Computer science students will need a laptop with sufficient storage to save programming projects, software, and other files. An SSD is faster and more reliable than a Hard Disk Drive (HDD). A minimum of 256GB of storage is recommended, but students storing large files should consider a laptop with at least 512GB.
Display:
A computer science student will need a laptop with a high-resolution display for programming and other computing tasks. A Full HD (1080p) display is the minimum resolution that should be considered. However, a higher resolution display, such as a 4K display, will provide more screen real estate and allow for more efficient multitasking.
Battery Life:
Computer science students will need a laptop with long battery life as they may need to work on programming projects for extended periods without access to an electrical outlet. Laptops with a battery life of at least 8 hours are recommended.
Portability:
Computer science students may need to take their laptops to class, study groups, or other locations. Laptops that are lightweight and easy to carry are essential. Laptops with a screen size between 13 and 15 inches are ideal as they have a balance between portability and usability.
Operating System:
Computer science students will need a laptop with an operating system that supports the programming languages and software they will use. Windows, macOS, and Linux are all viable options, but some programming languages and software may only be compatible with specific operating systems.