Best Printer for Small Business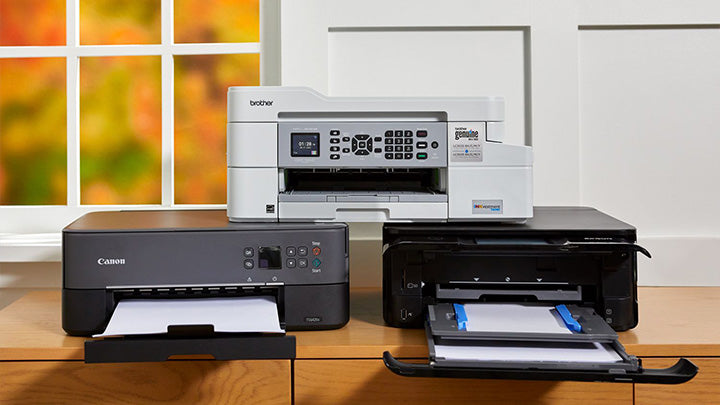 Various printers on the market claim to be the best, making it difficult to determine the best for your small business in Pakistan. As a result, we've compiled a list of the top printers based on the key aspects that mean the most to small companies, such as printer type and print speed and customer support, pricing, and customer reviews.
Top Printers for Small Businesses:
| | |
| --- | --- |
| Printer  | Price  |
| | Rs.65,000.00 |
| | Rs.130,000.00 |
| | Rs.38,500.00 |
| | Rs.63,000.00 |
The HP Smart Tank 516 Printer is a versatile all-in-one ink tank printer designed to meet the printing needs of home and small office users. This printer features a high-capacity ink tank system that allows users to print up to 8,000 pages in black and white or 6,000 pages in color with a single set of ink bottles. The ink tanks are transparent, which makes it easy for users to monitor ink levels and refill them as needed. The printer also comes with four spill-free ink bottles, making it easy to refill the ink tanks without any mess. 
The HP Smart Tank 516 Printer features wireless connectivity options such as Wi-Fi Direct and HP Smart App, which allows users to print, scan and copy documents from their smartphones and tablets. The printer also supports automatic two-sided printing, which helps users save paper and reduce printing costs.
In addition to its printing capabilities, the HP Smart Tank 516 Printer also features a flatbed scanner that can scan and copy documents up to A4 size. The scanner has an optical resolution of 1200 x 1200 dpi, which ensures high-quality scans and copies.
The HP OfficeJet Pro 7740 Printer is a versatile all-in-one inkjet printer for small to medium-sized businesses. It is a multifunctional device that can print, scan, copy, and fax, and various features make it a reliable and efficient option for office use.
The HP OfficeJet Pro 7740 Printer has a large format printing capability of up to 11x17 inches, which makes it an excellent option for printing marketing materials, posters, and other large documents. It also has a print speed of up to 22 pages per minute for black and white and 18 pages per minute for color documents, making it a fast and efficient printer for busy offices.
One of the standout features of the HP OfficeJet Pro 7740 Printer is its automatic document feeder, which can handle up to 35 pages. Additionally, the printer can perform two-sided duplex printing, which helps to save paper and reduce printing costs.
The HP OfficeJet Pro 7740 Printer has excellent connectivity options, including Wi-Fi, Ethernet, and USB, making it easy to connect to various devices. It also supports mobile printing through the HP Smart app, allowing you to print from your smartphone or tablet anywhere.
The printer uses four individual ink cartridges, a cost-effective option as you only need to replace the color that runs out. It also has an eco-mode feature that helps to save energy and reduce your electricity bills.
The Canon Laser Shot LBP2900B is a monochrome laser printer designed for personal and small business use. It is a compact and lightweight printer that can easily fit in small spaces. The printer uses Canon's On-Demand Fixing technology, which reduces warm-up time and allows for faster printing speeds.
With a maximum print resolution of 2400 x 600 dpi, the Canon Laser Shot LBP2900B delivers crisp and clear prints that are perfect for text documents, presentations, and graphics. The printer also has a fast printing speed of up to 12 pages per minute, which makes it ideal for small offices or personal use.
The Canon Laser Shot LBP2900B is easy to use and requires minimal maintenance. The printer comes with a toner cartridge that can print up to 2,000 pages, and the drum unit has a life cycle of up to 12,000 pages. The printer also has a compact design that makes it easy to replace the toner cartridge.
The Epson EcoTank L3250 printer is a multifunctional inkjet printer offering high-quality printing, scanning, and copying capabilities. It features a compact and stylish design for small offices or homes.
One of the most notable features of this printer is its EcoTank system, which uses refillable ink tanks instead of traditional cartridges. This system is designed to reduce printing costs and minimize waste, making it an excellent choice for users who print frequently.
The Epson EcoTank L3250 printer has a print resolution of up to 5760 x 1440 dpi, which ensures sharp and vivid prints. It can print up to 33 pages per minute (ppm) for black and white documents and 15 ppm for color documents. It also supports automatic duplex printing to save paper and reduce printing costs.
The printer's flatbed scanner has an optical resolution of up to 1200 x 2400 dpi, which ensures clear and detailed scans. It also features a CIS sensor for quick scanning speeds of up to 11 seconds per page.
The Epson EcoTank L3250 printer has Wi-Fi connectivity, which allows users to print and scan from their smartphones or tablets. It also supports a range of mobile printing options, including Epson Connect, Apple AirPrint, and Google Cloud Print.
Should I Purchase an inkjet or a Laser Printer for my business?
Invest in a laser printer to print more than a few sheets. They are much quicker than inkjet printers and store far more pieces of paper, so you won't have to refill it.
Consider an inkjet printer if you need to produce high-quality colour pictures frequently. They make images much better than laser printers and print in colour as standard.
Having a reliable printer is essential to keep your business running smoothly. In this article, we will discuss some factors to consider when selecting the best printer for your small business and recommend some of the top printers on the market.
Factors to consider when selecting a printer for your small business:
Printing needs:
The type and volume of printing required will affect the type of printer you choose. For example, a laser printer may be the best choice to print more text documents. On the other hand, an inkjet printer would be suited for your needs to print colour graphics or photos.
Connectivity:
Your printer should be able to connect to your computer, mobile devices, and network. Wi-Fi and Bluetooth connectivity options are essential for businesses that rely on mobile devices and cloud services.
Cost:
The upfront cost of a printer is an important consideration, but you should also consider the cost of ink or toner cartridges, paper, and maintenance. High-volume printing will require a printer with a lower price per page.
Size and Space:
Consider the space you have available for your printer and the size of the printer itself. All-in-one printers that can print, scan, copy, and fax can save space and increase efficiency.
Speed:
The speed of your printer will affect your productivity, especially if you need to print large volumes of documents. Look for a printer with high print speed for your specific needs.
Conclusion:
Ultimately, the best printer for your small business will depend on your specific needs and budget. Consider your printing volume, type of printing, connectivity requirements, and budget to make an informed decision.