How To Connect Printer With Mobile (iOS & Android)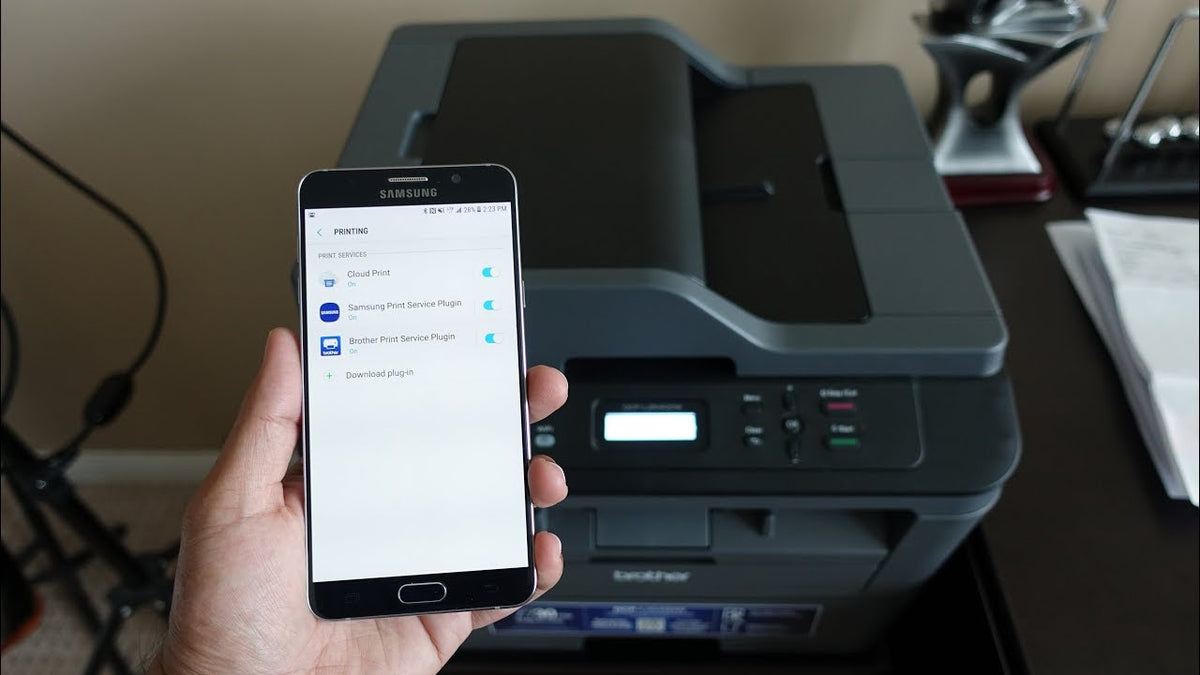 When you wanted to print data, images, or documents from your phone, you had to transfer them to a computer. However, you can print from your smartphone or tablet using Wi-Fi or Bluetooth as well (provided your printers support the feature of course).
Setting Up Your Printer:
Before you begin, you must connect your printer to your home network. However, each brand approaches this differently. Even within the same brand, starting the ball rolling differs from product to product.
The best recommendation is to review the product or user handbook for your printer. If you can't find yours, try looking for it online using the exact product name, which should be on the printer someplace, either on the casing or on a sticker. Once your printer is online, connect your Android or iOS devices using the instructions below.
Printing with an Android Device:
Google Cloud Print was the go-to service for connecting your Android device to a printer until it was discontinued at the end of 2020. Fortunately, the Android operating system has a simple choice called the Default Print Service.
Connecting Through Wi-Fi:
Android's Default Print Service effectively instructs your phone or tablet to look for printers on the same Wi-Fi network. The printer must also support it, but the good news is that every major manufacturer is on board.
To avoid problems, you must remain connected to the same Wi-Fi access point during the procedure. 
Go into your phone's settings

Search for "printing" and then choose it from the results.

Under Connection settings, select Printing

Click on Default Print Service and turn it on.

Choose from the list of compatible network printers. 
What to do If your Printer is not in the list:
Return to the printer settings

Choose "Add Service".

It will take you to a list of printer services for certain manufacturers.

Choose your brand, download it, and then navigate to the printer settings to identify your model.

To locate your printer, follow the steps in the brand-specific service.
Consider using a third-party provider if it fails or the manufacturer hasn't provided a plugin. These are accessible in the same Google Play Store area and will search your home network for any active printers, regardless of manufacturer. PrinterOn and PrinterShare Mobile Print are popular choices (which we have not tested).
Finally, you may add your printer to the Default Print Service directly via Wi-Fi or its IP address. Here's how to do this for IP address:
Navigate to your router's settings (steps differ depending on the type).

Look for a section named Attached Devices or something similar.

Locate your printer in the list of devices

Note the IP address.

Return to Default Printer Settings

Press three vertical dots in the upper right corner.
Click on Add a Printer
Inside Click on Add a Printer by IP Address.
Enter the IP address, hit Add, and it should show in the list.
Here's how to do this with WiFi Direct:
Choose Add Printer and enable Wi-Fi Direct printing.
It will search the region for Wi-Fi Direct-compatible printers to create a direct local connection.
No internet needed
Connecting Through Bluetooth:
Though fewer printers support Bluetooth, it's easier to use than Wi-Fi because you don't have to bother about networking. You'll know what to do if you've linked your phone or tablet to a Bluetooth speaker, here's how to do so:
First, enable Bluetooth scanning on your printer (Check user manual for It).

After it has finished scanning, go to Settings. 
Click on Connected devices
Then Pair devices.

Tap to connect when your printer shows in the list of nearby devices.
The printer will get disconnected if your phone or tablet is too far away. It should reconnect when you turn on Bluetooth on your printer and device. If not, return to the area of the linked device and choose your printer from the previously connected devices list.
How to Print with an iOS Device:
iOS, like Android, includes a printer service that can connect compatible devices to the same Wi-Fi network. It's called AirPrint, and you can see a list of compatible printers on the Apple website.
If you're in the market for a new printer and want to print from your iPhone, look for one that has the AirPrint logo on the box. Connect it to your home network after unpacking, and ensure AirPrint is enabled in the settings.
Instructions for accessing the settings through a web browser will be provided with your model. Once there, look for the AirPrint option under the Network tab (or something similar) and enable it. Below is how to start printing through AirPrint:
On your iPhone or iPad, open the document, photo, or webpage you want to print

Click the share symbol (a square with an arrow pointing up).

It will activate the sharing options. To open Printer Options, scroll down and pick Print.

Select your AirPrint-enabled printer from the list by tapping it.
When it's linked, go to the upper right corner and press Print to print your document.
If this is your first time using Printer Options, there will be a Select Printer option at the top of the screen.
Tap it and from the list, choose your AirPrint-enabled printer. This printer should be set as the default for future use. When it's linked, go to the upper right corner and select Print to print your document.
Bluetooth connection:
While some claim that you can print from an iOS device via Bluetooth, Apple hasn't confirmed this, and we couldn't get it to work either. It's feasible, but we recommend sticking with AirPrint.
You can connect your mobile to any printer by following the instructions above. Get your prints without any problem.