How to Install Windows 7 on MacBook Pro (No Bootcamp)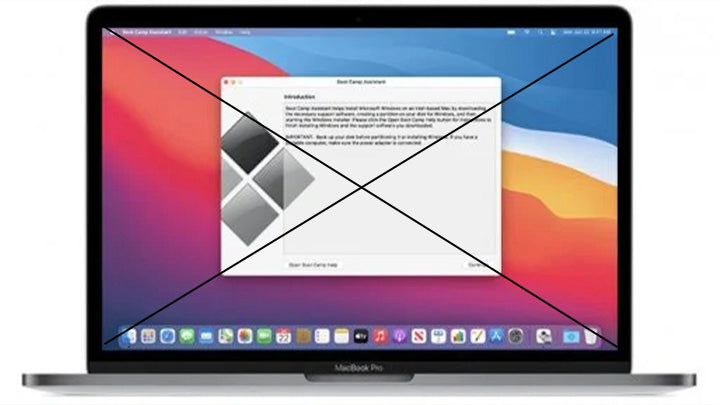 Why Not Make Use of Boot Camp?
Boot Camp was one of the most common ways to install Windows on a Macbook Pro until the advent of Apple Silicon M1 Macs.
One of them is that you can only use Boot Camp to boot your Mac into Windows on macOS. You can't run them both at a time as you can with a virtual machine.
Another significant issue is that the newest M1 chip Macs do not support Boot Camp, which means you cannot install Windows on an M1 Mac with it.
However, if you want to keep your Mac and Windows data separate or don't have enough hard drive space on your Mac's internal hard drive, utilizing an external hard drive to run Windows is a better option to run Windows on a Mac. It also has the advantage of not taking up any hard drive space on your Mac's hard drive because everything is saved and operated on an external disc.
Another fantastic feature is that you can now install Windows on a Mac for free. If you want to remove a little watermark and personalize Windows 10 or Windows 11, you need to purchase an activation key.
Is it Possible to install Windows on an M1 or M2 Mac without Boot Camp?
Unfortunately, the methods for installing Windows on a Mac without Boot Camp work exclusively on Intel Macs.
Apple Silicon M1 and M2 Macs include extensive security features that prevent you from booting from an external disc.
You may, however, use Parallels to install Windows on an M1 Mac without needing Boot Camp.
Installing Windows Without Boot Camp:
With that in mind, here's how to simply and for free install Windows on a Mac without Boot Camp.
Consider buying an External Hard Drive:
An external hard drive is the first item you'll need to install Windows without Boot Camp. If you don't already have one, various Mac-compatible external hard drives function well, and we strongly recommend going with a Solid State Drive (SSD), which is far faster than a traditional hard drive.
The Samsung 17 Portable SSD is the finest SSD external drive for Mac, with up to 2TB of storage capacity, which is more than enough to run Windows from and install Windows updates, games, and programs. Remember to format the external disc before your Mac detects it.
Using a second external hard drive or a pen drive to transfer the Boot Camp support files from your Mac to Windows during installation is also recommended.
Get an External Keyboard and Mouse:
You'll also need an external keyboard and mouse since the keyboard and trackpad on your MacBook will not work the first time it boots into Windows because there will be no drivers.
Any USB-connected keyboard or mouse will work, but avoid getting one with only a Bluetooth connection because Windows will initially be unable to access your Mac's Bluetooth card.
Download the Windows ISO file:
A Windows ISO file is a type of Windows file that allows you to construct a bootable disc for Windows 10 or 11.
The Microsoft Software Download site has ISOs for both Windows 10 and Windows 11. Find out how to download a Windows ISO for your Mac here.
Download Etcher:
Etcher is a great program that lets you mount and install a portable version of Windows ISO on an external hard disc. WinToUSB and Rufus are two tools that may be used to build an external boot disc on Windows.
Many of them, however, are PC-only, but Etcher also works on Mac.
Other disc boot applications, such as UNetbootin and Disk Utility X, are also available. But, they have not been upgraded to function with the most recent macOS Big Sur version and Monterey. Etcher runs on the most recent versions of macOS Monterey and is quite simple to use.
Turn off T2 Chip Security:
Now that you have all the necessary equipment, you can begin prepping your Mac. Then disable the Apple 12 chip's security protections on your Macbook.
Because the T2 chip stops your Mac from starting from an external disc, you must disable this function in the Mac Startup Security Settings.
Because this can only be disabled on Intel Macs, this method of installing Windows without Boot Camp does not work on M1 chip Macs.
Switch on your Mac and hold down the Command and R keys until you see the Apple logo to open your Mac's Startup Security Settings.
Select Utilities > Startup Security Utility from the Menu Bar in the recovery space that displays. Then you must check the following boxes:
Under Authentication, choose "No security."

Select "Allow booting from external media" from the Secure Boot menu.

Then, dismiss the security settings and return to the Apple logo to restart your Mac as usual.
Download the Boot Camp Support Drivers
Turn on your Mac and go to the desktop. Search Spotlight for Boot Camp and launch the Boot C application. Go to Action > Download Windows Support Software from the menu.
You must then drag and drop the downloaded Windows Support Software onto an external disc, such as a USB pen drive.
Make a Windows Boot Drive:
Open the Etcher USB boot application downloaded previously and attach your external hard drive to which you wish to install Windows.
Choose the previously downloaded Windows ISO image and the external discs, and Etcher will create a bootable Windows drive.
The installation procedure should take about 10-15 minutes.
Finally, shut down your Mac and copy the Boot Camp support files you obtained previously to the root of the external disc.
Start Windows from an External Drive:
Finally, you can boot Windows from the external disc on your Mac. To do so, turn on your Mac and press the Option key when you see the Apple logo.
To boot, choose the external disc that contains Windows. Because Windows lacks the drivers for your Mac's keyboard and trackpad, you must connect your external keyboard and mouse to a USB port on your Mac.
When the keyboard and mouse are connected, navigate to the Windows Support folder on the C drive. When you run the Boot Camp setup tool, it will install the drivers for your Mac's keyboard and trackpad automatically.
You've now installed Windows on an external disc and can use it on your Mac without Boot Camp. Even if you have an SSD drive, you may notice that Windows runs slowly on your external hard drive.
It is because external drives' read-write rates aren't as fast as internal drives, but they're still more than enough.